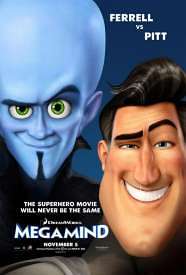 1. Megamind (Paramount/Dreamworks, 3,500 Theaters, 96 Minutes, Rated PG): I always though Brad Pitt would have made a great superhero. He has the roguish good looks, the kind smile, and the jawline.
Unfortunately, this is probably as close as we will ever get to seeing him as a caped crusader. But, be honest, when you saw that it was him voicing this superhero character in this film, didn't you think that it was a perfect choice?
This film is Dreamworks next attempt at building a franchise. It focuses on an alien evil mastermind who has bested his Superman-esque nemesis. It was a life-long dream of his, but now that it has come through, he finds it lacking.
2. Due Date (Warner Brothers, 3,355 Theaters, 100 Minutes, Rated R): Even though it features the director and one of the cast members from The Hangover, it seems that this film has more in common with Planes, Trains and Automobiles.
I mean, replace a holiday dinner with the family with trying to get home to see your baby being born and it appears to be the same movie. A person who tries to get from one place to another who finds a number of different modes of conveyance failing him. Along the way, he picks up a goofy wacko who hurts more than helps him in his quest. Eventually, he gets to his destination just in time and realizes that the goofy wacko isn't so bad after all.
Not saying that I don't want to see it. Just saying that there are similarities.
3. For Colored Girls (Lionsgate, 2,127 Theaters, 134 Minutes, Rated R): I have actually read "For Colored Girls Who Have Considered Suicide When the Rainbow Is Enuf," the play that this film was based on (not written by Tyler Perry, by the way) and I have to say, I am kind of interested in seeing how Perry brings this to the screen.
The play was a series of 20 poems/monologues that spoke on the experiences of being a black woman in America. It ran the gamut from abuse, poverty and living with drug abuse. Which, on paper, seems like the kind of stuff Oscar nominations are made of.
However, Tyler Perry is at the helm. I don't know if he has the chops–stellar cast or no stellar cast–of actually making this work on the screen. He does have a fan base, and this is close enough to that to make it a high grosser, but those nominations might be long in coming.
Let's see. Of the major releases, well, I've already spoke on For Colored Girls, Megamind has a good chance for a nomination in the animated category and there was some buzz that never panned out for The Hangover to get an Oscar nod. Due Date has some past nominees or winners in its cast. So a nod there might not be out of the question.
But any potential nominees might come from the trio of true life films in limited release this week.
Expanding to 672 theaters this week is Conviction (Fox Searchlight, 107 Minutes, Rated R). This is Hillary Swank's last entry in her yearly "Hey, over here, nominate me," films! This process worked two times, so it might work again. She plays a woman who risks everything to free her falsely imprisoned brother.
Opening in 46 theaters is Fair Game (Summit Entertainment, 108 Minutes, Rated PG-13). It stars Oscar favorite Sean Penn and Oscar nominee Naomi Watts in Doug Liman's cinematic telling of the Valerie Plame affair. The cast and the subject matter indicate that it would have to screw up majorly to not get at least a handful of nominations.
Finally, in a paltry 4 theaters, is 127 Hours (Fox Searchlight, 94 Minutes, Rated R). This is story of Aron Ralston, the man who was forced to amputate his own hand to escape a cave in that trapped him during a hike. Boyle is fresh of Slumdog Millionaire, and James Franco's performance as Ralston has already garnered Oscar buzz. The only red flag would be how Oscar voters react to the harrowing and graphic scene of amputation that has also been gaining buzz. If that is too off-putting to voters, it could affect its chances. If not, it could be in line for quite a few nominations.