1. Conan The Barbarian (Lionsgate, 3,015 Theaters, 112 Minutes, Rated R): You might not think that this remake had all that hard time being better than the original, but then you'd probably not realize that the original was a subtle classic.
It was the first film that showed that Arnold Schwarzenegger can be a star, it was just the right mix of dark and campy yet remarkably true to the original source material.
This film, well, could do the same thing for Jason Momoa. But the film seems to be a more pedestrian sword and sorcery saga. The R Rating is a good sign, but it seems more schlocky than campy and definitely not as dark.
2.Fright Night (Touchstone, 3,114 Theaters, 106 Minutes, Rated R): Two R rated remakes in the same week. Maybe they have a point about Hollywood not being terribly original.
If the first Conan didn't need to be remade, the first Fright Night certainly didn't. For what it was, it was a pretty perfect film. It was a horror comedy and a tribute to the mid-afternoon monster movie host genre. Which existed when the first film came out but not so much now.
This one has a lot of talent and a more sinister aspect to it, but it also has David Tennant in the Roddy McDowell role. You'd never know that by looking at the ads, where he's barely present. That puts an air of doubt on the film for me.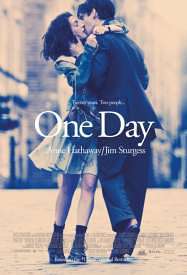 3. One Day (Focus Features, 1,719 Theaters, 108 Minutes, Rated PG-13): Then there's this film, which sticks out like a sore thumb. A no less derivative sore thumb, but a sore thumb nonetheless.
Anne Hathaway and Jim Sturgess play life long friends who eventually realize they love each other. How many times have we seen plots like that before?
Romantic dramedies up against spy kids, barbarians and vampires can be good conterprogramming, though. If people can get past Hathaway's dicey British accent, then it could find some success.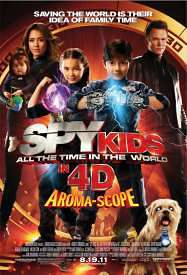 4. Spy Kids 4: All The Time In The World (The Weinstein Company/Dimension Films, 3,295 Theaters, 89 Minutes, Rated PG): We have to, wait years and years for a sequel to Sin City but this franchise gets a new installment every couple years? Yeesh!
This is more of a reboot than a sequel, unless you mean to tell me that Joel McHale is supposed to be Antonio Bandaras. I mean, Jessica Alba for Carla Gugino I can see. The guy from that clip show as the Mariachi? Not buying it.
So, from what I can tell, Alba is a spy, McHale is a spy hunter, and their kids have to bring them together. Or something like that.