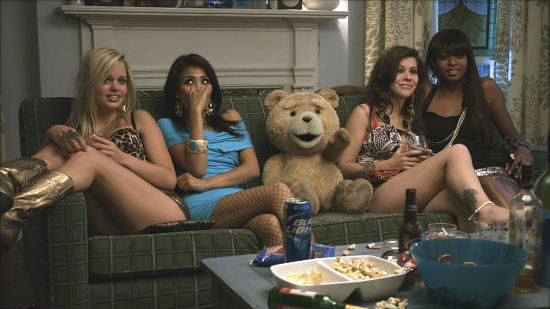 It should come as no real surprise that Seth MacFarlane's feature film debut features a talking teddy bear in its title role. After all, this is the man who either created or co-created animated series that feature talking dogs, aliens, goldfish and bears interacting with human characters. And as the red band trailer shows, his film Ted also lies in the land of the hard R rating that MacFarlane regularly pushes his animated fare towards. The trailer is a red band one, so consider it unsafe for work or for those who thing some words are bad.
Also released this weekend were three photos from the upcoming film, the one above and the two below, the feature stars Mark Wahlberg and Mila Kunis.
Ted also stars Joel McHale, Patrick Warburton, Giovanni Ribisi and the voice of MacFarlane as Ted and opens July 13th.