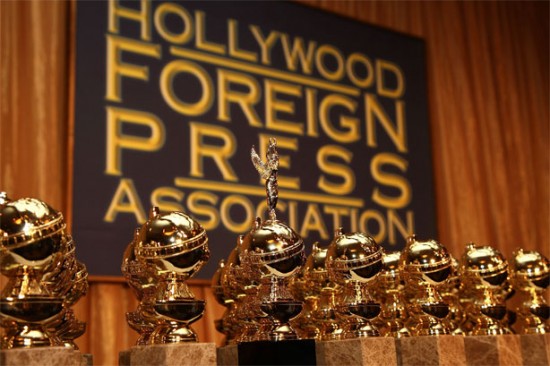 It has been described as just an excuse for Hollywood to party to being a prognosticator of the Oscars. Either way, the Golden Globes are perhaps the second biggest awards show in the entertainment business and do generate some interest when they roll around.
Nominations for the 71st Annual Awards have just been released and there are some surprises. 12 Years A Slave and American Hustle lead the nominations with seven nods each, followed by Nebraska with five. The biggest surprise was that Oprah Winfrey didn't get a nomination for Les Daniels' The Butler, and that the film was completely shut out with zero nomination. I saw that film and I thought Winfrey did a good job in it, but wasn't a slam dunk nomination for any award. I though Forest Whitaker should have been nominated, though.
The Golden Globes will be given out on January 12, 2014 and air on NBC. Tina Fey and Amy Poehler will host.
Here is a listing of the film nominations:
BEST MOTION PICTURE – DRAMA
12 YEARS A SLAVE
Plan B Entertainment, New Regency Productions and River Road Entertainment; Fox Searchlight Pictures
CAPTAIN PHILLIPS
Columbia Pictures; Sony Pictures Releasing
GRAVITY
Warner Bros. Pictures / Esperanto Filmoj / Heyday Films; Warner Bros. Pictures
PHILOMENA
Pathe, BBC Films, BFI, Canal+, Cine+, Baby Cow/Magnolia Mae; The Weinstein Company
RUSH
Universal Pictures, Cross Creek Pictures, Exclusive Media, Imagine Entertainment, Working Title, Revolution Films; Universal Pictures
BEST PERFORMANCE BY AN ACTRESS IN A MOTION PICTURE – DRAMA
Cate Blanchett, Blue Jasmine
Sandra Bullock, Gravity
Judi Dench, Philomena
Emma Thompson, Saving Mr Banks
Kate Winslet, Labor Day
BEST PERFORMANCE BY AN ACTOR IN A MOTION PICTURE – DRAMA
Chiwetel Ejiofor, 12 Years A Slave
Idris Elba, Mandela: Long Walk To Freedom
Tom Hanks, Captain Phillips
Matthew McConaughey, Dallas Buyers Club
Robert Redford, All Is Lost
BEST MOTION PICTURE – COMEDY OR MUSICAL
AMERICAN HUSTLE
Columbia Pictures and Annapurna Pictures; Sony Pictures Releasing
HER
Warner Bros. Pictures / Annapurna Pictures; Warner Bros. Pictures
INSIDE LLEWYN DAVIS
Mike Zoss Productions, Scott Rudin Productions, Studio Canal; CBS Films
NEBRASKA
Paramount Vantage; Paramount Pictures
THE WOLF OF WALL STREET
Paramount Pictures and Red Granite Pictures; Paramount Pictures
BEST PERFORMANCE BY AN ACTRESS IN A MOTION PICTURE – COMEDY OR MUSICAL
Amy Adams, American Hustle
Julie Delpy, Before Midnight
Greta Gerwig, Francis Ha
Julia Louis-Dreyfus, Enough Said
Meryl Streep, August: Osage County
BEST PERFORMANCE BY AN ACTOR IN A MOTION PICTURE – COMEDY OR MUSICAL
Christian Bale, American Hustle
Bruce Dern, Nebraska
Leonardo DiCaprio, The Wolf Of Wall Street
Oscar Isaac, Inside Llewyn Davis
Joaquin Phoenix, Her
BEST ANIMATED FEATURE FILM
THE CROODS
DreamWorks Animation LLC; Twentieth Century Fox
DESPICABLE ME 2
Universal Pictures, A Chris Meledandri Production; Universal Pictures
FROZEN
Walt Disney Animation Studios; Walt Disney Pictures
BEST FOREIGN LANGUAGE FILM
BLUE IS THE WARMEST COLOR (France)
Quat'sous Films; IFC Films
THE GREAT BEAUTY (Italy)
Indigo Film, Medusa Film, BABE Films; Janus Films
THE HUNT (Denmark)
Zentropa Entertainment; Magnolia Pictures
THE PAST (Iran)
Memento Films Production, France 3 Cinema, BIM Distribuzione; Sony Pictures Classics
THE WIND RISES (Japan)
Studio Ghibli; Touchstone Pictures
BEST PERFORMANCE BY AN ACTRESS IN A SUPPORTING ROLE IN A MOTION PICTURE
Sally Hawkins, Blue Jasmine
Jennifer Lawrence, American Hustle
Lupita Nyong'o, 12 Years A Slave
Julia Roberts, August: Osage County
June Squibb, Nebraska
BEST PERFORMANCE BY AN ACTOR IN A SUPPORTING ROLE IN A MOTION PICTURE
Barkhad Abdi, Captain Phillips
Daniel Bruhl, Rush
Bradley Cooper, American Hustle
Michael Fassbender, 12 Years A Slave
Jared Leto, Dallas Buyers Club
BEST DIRECTOR – MOTION PICTURE
Alfonso Cuaron, Gravity
Paul Greengrass, Captain Phillips
Steve McQueen, 12 Years A Slave
Alexander Payne, Nebraska
David O. Russell, American Hustle
BEST SCREENPLAY – MOTION PICTURE
Spike Jonze, Her
Bob Nelson, Nebraska
Jeff Pope & Steve Coogan, Philomena
John Ridley, 12 Years A Slave
Eric Warren Singer & David O Russell, American Hustle
BEST ORIGINAL SCORE – MOTION PICTURE
Alex Ebert, All Is Lost
Alex Heffes, Mandela: Long Walk To Freedom
Steven Price, Gravity
John Williams, The Book Thief
Hans Zimmer, 12 Years A Slave
BEST ORIGINAL SONG – MOTION PICTURE
"Atlas", The Hunger Games: Catching Fire
Music by: Chris Martin, Guy Berryman, Jonny Buckland, Will Champion
Lyrics by: Chris Martin, Guy Berryman, Jonny Buckland, Will Champion
"Let It Go", Frozen
Music by: Kristen Anderson Lopez, Robert Lopez
Lyrics by: Kristen Anderson Lopez, Robert Lopez
"Ordinary Love", Mandela: Long Walk To Freedom
Music by: Bono, The Edge, Adam Clayton, Larry Mullen, Jr., Brian Burton
Lyrics by: Bono
"Please Mr Kennedy", Inside Llewyn Davis
Music by: Ed Rush, George Cromarty, T Bone Burnett, Justin Timberlake, Joel Coen, Ethan Coen
Lyrics by: Ed Rush, George Cromarty, T Bone Burnett, Justin Timberlake, Joel Coen, Ethan Coen
"Sweeter Than Fiction", One Chance
Music by: Taylor Swift, Jack Antonoff
Lyrics by: Taylor Swift, Jack Antonoff