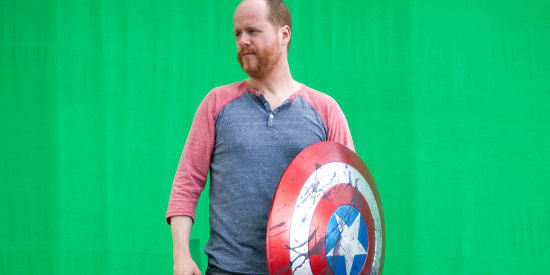 There is no doubt that Joss Whedon has been one of the creative forces behind Marvel Studio's success. Even as he took the writing and directing reigns of The Avengers, he consulted on some of the scripts leading up to the superhero teamup film. Marvel was quick to announce that they had secured a deal with Whedon to help oversee the overall arc of the studio's Phase Two slate of films that will culminate with next summer's The Avengers: Age Of Ultron. But while there has been no official word as to Whedon's involvement beyond next year, it has been pretty much assumed that he would be staying on to work with Marvel for Phase Three and the inevitable The Avengers 3.
Iron Man 3 co-writer Drew Pearce has let slip our first real indication that Whedon will be continuing on with Marvel post-Age Of Ultron. Speaking with Movies.com about his short film All Hail The King, which is appearing on the newly released Thor: The Dark World blu-ray, Pearce spoke as if Whedon's ongoing association with Marvel won't be ending anytime soon.
Movies.com: Will we see some aftermath of this short at some point, either in the cinematic universe or Netflix or any of the other crazy things Marvel is cooking up?

Pearce: Honestly, it's a question above my pay grade. One of the things when you're a writer or director in the Marvel universe is you come in, you leave some tasty morsels dangling at the end, and maybe you're the one who comes in and picks them up again next time, or maybe it's someone else, or maybe they just hang there awhile and that's fine too. Despite any cliffhanger-ness to the short, I also don't feel like it's unsatisfying. That's all you can really hope to do. Unless you're Joss [Whedon] and you're making Avengers 2 and 3, and then you have a pretty good idea if you're making the next one or not.
As I noted, Whedon's continual working with Marvel seems to be a no-brainer, given the success he has brought the studio so far and the number of hints that have appeared in the films so far as to direction in which things appear to be going for Avengers 3. I honestly think the more interesting question is going to be what happens after Whedon does decide to move onto something else, most likely after Avengers 3.