Fun Fact: All three new releases this week deal in one way or another with historical events. And the one furthest away from the truth is the best bet of the week.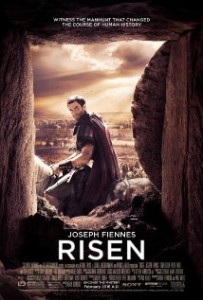 1. Risen (Sony/Columbia, 2.915 Theaters, 107 Minutes, Rated PG-13 for Biblical violence including some disturbing images, Rotten Tomatoes Tomatometer at press time: 56% Fresh [62 reviews]): A cult leader is sentence to death by authorities for inspiring the local populace to rise up against their master. The authorities figure this will end the cult once and for all, but they are disturbed by reports that the cult leader has come back to life. When officers check on the cult leader's final resting place, they find it open and his body missing. An all-out search begins to find the body before a full-blown rebellion breaks out.
Replace "cult leader" with "Jesus Christ" (or Yeshua, as he is called here), and you have the plot to this film.
This is a fresh take on the often told story of Christ. Approaching from the Roman side after his resurrection as essentially a crime procedural is definitely inspired. With Easter fast approaching, it will be interesting to see if the film has legs enough to last to the holiday it is all about.
2. Race (Focus Features, 2,369 Theaters,134 Minutes, Rated PG-13 for thematic elements and language, Rotten Tomatoes Tomatometer at press time: 61% Fresh [84 reviews]): In 1936, Adolph Hitler had been in power for about 3 years, and his idea of an Aryan master race was starting to gain traction. Proof that people with blonde hair, blue eyes and white skin were far superior to other, inferior races would be seen at the Berlin Olympics that year.
Enter Jesse Owens. The African-American was the antithesis of Hitler's ideal. According to Hitler's logic, Owens should have finished last in every event he competed in. Instead, he won four gold medals and set one world record in the games.
As a WWII era buff, this is one of my favorite stories from the time. This is the first scripted film to focus on that event, so, if you want to see it dramatized, here you go.
3. The Witch (A24, 2,046 Theaters, 93 Minutes, Rated R for disturbing violent content and graphic nudity, Rotten Tomatoes Tomatometer at press time: 88% Fresh [127 reviews]): Back in the 1600's in New England, being weird could have you accused of being a witch. And this was no joke, the accusation usually was followed by a trial and an innocent person being put to death.
This film plays into that paranoia, but this time the witches are real. When the infant son of a Christian family is kidnapped and their crops start failing, the family believes witchcraft is involved. As the bad thing continue happening, the family starts to unravel and their faith is tested far beyond the breaking point.
The film won first time writer/director Robert Eggers the award for directing in the drama category at the 2015 Sundance Film Festival, and has the best reviews of a horror film in a long time. And if you horror fans need more encouragement to go see it, a master of the genre has some good things to say about it:
The Witch scared the hell out of me. And it's a real movie, tense and thought-provoking as well as visceral.

— Stephen King (@StephenKing) February 16, 2016