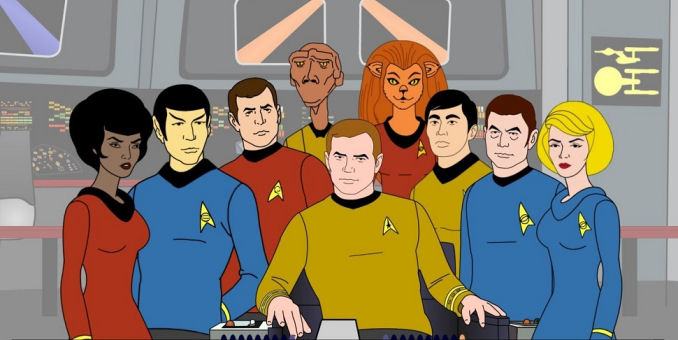 Star Trek is about to go where the franchise has not gone before – animated comedy.
CBS All Access has bought two seasons of an animated Star Trek series entitled Lower Deck from Trek producer Alex Kurtzman and Rick And Morty writer Mike McMahan. According to the Hollywood Reporter, the series will "focus on the support crew serving on one of Starfleet's least important ships."
Humor is of course not an unheard of thing in Star Trek. While the current television iteration of the franchise, All Access's Star Trek: Discovery, is fairly grim and dark, previous series have often done lighter episodes that played for laughs starting with one of the franchise's most classic episodes, "The Trouble With Tribbles." But Lower Deck marks the first time when telling jokes will be the show's Prime Directive.
By all accounts, McMahan is a lifelong Trek fan. He was able to convert a twitter account where he posted episode plots for a fake season of Star Trek: The Next Generation into the book Warped: An Engaging Guide to the Never-Aired 8th Season.
According to Kurtman –
Mike won our hearts with his first sentence: "I want to do a show about the people who put the yellow cartridge in the food replicator so a banana can come out the other end."' His cat's name is Riker. His son's name is Sagan. The man is committed. He's brilliantly funny and knows every inch of every Trek episode, and that's his secret sauce – He writes with the pure, joyful heart of a true fan. As we broaden the world of Trek to fans of all ages, we're so excited to include Mike's extraordinary voice.
Previously, the franchise went animated in the early 1970s for two years of adventures featuring the voices of the cast of the Original Series.
That CBS All Access is ordering more Trek doesn't come as much of a surprise. The premier season of Star Trek: Discovery was a huge subscriber boaster for the streaming service, though many of those subscribers subsequently cancelled their subscriptions after the show's season ended. It is though that by having new Star Trek shows all year round, more subscribers are likely to stick around. CBS All Access is already developing a Patrick Stewart-led series focusing on the latter years of his Next Generation character, Captain Jean-Luc Picard. The subscription service also is in the midst of presenting the four-part Short Treks series, mini-episodes centering on various Discovery characters.