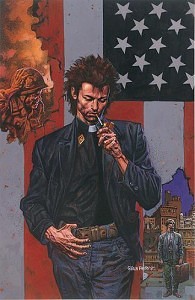 Columbia Pictures is stepping up to be the next studio to try and bring Garth Ennis and Steve Dillon's classic and controversial comic series Preacher to the big screen. According to The Hollywood Reporter, Sam Mendes, director of the graphic novel adaptation Road To Perdition (2002), is set to helm this latest try, with Neal Moritz and his Original Films banner producing. No writer has been chosen, though Ennis has worked on a script for a previous attempt to bring the comic to theaters.
The comic, which ran for a total of 75 issues including spin-off one-shots and miniseries, attracted controversy for its often savage satirical swipes at religion and American culture. The hero of the series is Jesse Custer, a minister who is accidentally infused with the supernatural entity Genesis, the offspring of a union between a devil and an angel. Instilled with a power that rivals God himself, Custer journeys across America to find the deity, accompanied by his girlfriend Tulip and an alcoholic Irish vampire named Cassidy. His quest is constantly opposed by a secret religious organization called the Grail which controls the world's governments and protects the genetic bloodline of Jesus, whom they claim never died on the cross but married and fathered several children.
For several years, Kevin Smith's View Askew Productions was developing the property, with ultimately James Marsden attached to play Jesse Custer. Sometime Smith collaborator Ben Affleck was once considered for the role, but he declined after appearing in Smith's Dogma (1999), not wanting to appear in another film of a controversial religious nature. More recently, Mark Steven Johnson was developing the comic as a series for HBO, but the potential series dies when there was a change of management at the cable outlet.