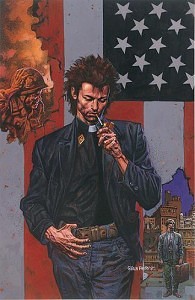 Screenwriter John August has confirmed that he jas been hired by Sony Pictures to script Preacher, an adaptation of the Vertigo comic book for director Sam Mendes. August mentioned it on his blog, though he was quick to point out that the project is still in very early days with no decisions on details or casting having been made.
Created by writer Garth Ennis and artist Steve Dillon, Preacher dealt in savage satire of American politics, culture and religion. It has been in development at various studios over the past several years, with Ennis even taking a crack at scripting.
August has previously written the first Charlie's Angels film, Big Fish, Charlie And The Chocolate Factory and The Corpse Bride. He had recently been developing the comic book adaptation Shazam! for Warner Brothers, but reported earlier this month that the project was now dead. He is also working on a big screen adaptation of the 1960s vampire soap opera Dark Shadows for director Tim Burton.