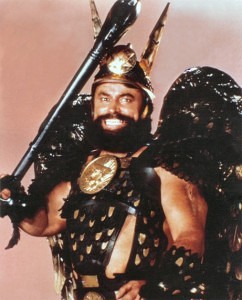 It looks as if Brian Blessed has been cast in the upcoming adaptation of the Norse god-turned-superhero Marvel Comic Thor, as the god of thunder's father Odin. The news comes from the recently launched Bleeding Coolcomics news website, run by long time comics gossip journalist Rich Johnston. Johnston previously worked in London radio advertising where he had occasion to work with Blessed on a couple of campaigns.
Immediately identifable by his booming voice, Blessed has been in numerous genre projects, mostly noteably the 1980 big screen adaptation Flash Gordon, which we love here, where he played Vultan, Prince of the Hawkmen. Although his performance was memorably tongue-in-cheek, He was much more restrained in actor/director Kenneth Branagh's 1996 big screen adaptation of Shakespeare's Hamlet. As Thor's director, it should be interesting to see which acting style Branagh allows Blessed to run with.
Thor is targeted with a May 20, 2011 release.