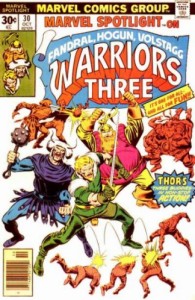 As the January start date creeps closer for Kenneth Branagh's comic book adaptation Thor, the last members of the cast are being added to the ensemble that the director has already assembled.
Stuart Townsend, Ray Stevenson, and Tadanobu Asano have been signed to play Fandral the Dashing, Volstagg the Valiant and Hogun the Grim, comrades in arms to the film's titular Norse thunder god being played by Chris Hemsworth. Also in the cast are Tom Hiddleston as Thor's half-brother and nemesis Loki, the Norse god of mischief, Anthony Hopkins as Thor's father Odin, king of the Norse gods, and Natalie Portman.
Its increasingly looking as if the movie is going to concentrate its storyline in the halls of Asagard, the home of the norse gods more so than in the modern day world, where the comic book version of Thor usually performs his heroics. Branagh has a tough job ahead of him, bringing the kind of verisimilitude to this film as Jon Favreau did to Iron Man and Louis Leterrier did with The Incredible Hulk. In fact, when the story crosses over from Asgard to Earth, Branagh will need to set a tone that not only works for his own film, but will probably set the template for the upcoming 2012 superhero team-up film The Avengers when we will see Thor meeting up with Iron Man and Captain America. Merging the magical nature of Thor's characters with the hard science foundation of Iron Man for an Avengers flick was a task that Favreau has stated that he has trouble envisioning an answer to.
The casting news originally broke in Variety, though at this time the showbiz news outlet has taken their story back down. Make of that what you will.