1. Thor (Paramount, 3,955 Theaters, 114 Minutes, Rated PG-13): So, growing up as a comic book reader, Thor was never my thing. He was a big blond guy who spoke in a Shakespearean style and fought trolls and giants. He wasn't as identifiable to me as Captain America, Spider-Man, the X-Men or, well, any other Marvel hero was.
So, when he was listed as being the next in line for the big screen treatment, I had to shake my head. Yes, I know they are taking steps to lead up to The Avengers film, and even the most rabid Thor hater would say you can't have The Avengers without Thor being involved. But it still looked like this was setting the stage for Marvel's first big flop.
However, they have done everthing right with this film, starting with the cast and the director to the script and treatment to the marketing. It went from a film that I would begrudgingly see to a film that I was actually looking forward to seeing. And the advance reviews (83% fresh at Rotten Tomatoes as I write this) make it seem like my changed perceptions are right. Hope the rest of the world agrees.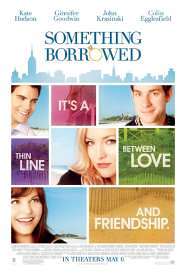 2. Something Borrowed (Warner Brothers, 2,904 Theaters, 103 Minutes, Rated PG-13): So, there are some who might say that this film would be the definition of perfect counter programing. The perfect alternative to a Nordic man hit people with a hammer would be a romantic comedy about a complicated love triangle. This is, of course, if we ignore the fact that it is a long-haired, hunky, Nordic guy hitting people with a hammer in a hunky way.
The plot is from chick flick Heaven. Rachel is the rather plain girl (you can tell because she is a brunette) who lives in the shadow of her more lustrous best friend Darcy (you can tell because she is a blonde). When Rex comes into play, Rachel finds an immediate attraction, but she is no match for Darcy in the field of pitching woo, and Darcy quickly latches on to Rex. Rachel's unrequited love becomes an issue as she is asked to become Darcy's made of honor in her wedding to Rex.
So, yeah. If that seems at all up your alley, well, there you are. Adapted from the Emily Giffen novel.
3. Jump The Broom (TriStar, 2,035 Theaters, 108 Minutes, Rated PG-13): If I were a betting man, which I am, I'd bet that most filmgoers will think that this film is directed by Tyler Perry. It's not (as you can tell by the lack of Tyler Perry's… in the title) but it is close enough that it can fool the non-savvy out there.
And it's not just because it has a predominantly African-American cast featuring a mix of good, experienced actors like Angela Bassett and Paula Patton and relative unknowns like Laz Alonzo. It also features, if trailers are to be believed, Perry's over-the-top comedy/seering melodrama style and stereotypes not so much addressed but abused.
The film focuses on a wedding between a middle class man and an upper class woman. The nuptuals are in danger as the man's overprotective mother sets her mind to breaking up the wedding. Hilarity, so they claim, will ensue.