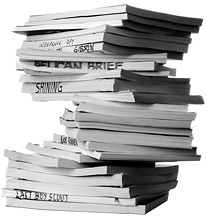 Warner Brothers has purchased the science-fiction spec script Second Son from scripter Justin Rhodes.
We'd love to tell you what the script was about and what about it excited the studio so much, but Warners is keeping a tight lid on the plot details. The Hollywood Reporter is citing unnamed sources describing the plot as "an adventure set on another planet with twists." So I guess that clears that up.
If Rhodes' name doesn't sound familiar to you don't worry. Previously, the writer's only other credit was the 2009 low-budget action flick Contract Killers, which he also directed.
The Hollywood Reporter also states that Rhodes has worked as an editor on a couple of short film projects. And while story construction between a short film and a feature is different, I can't help but think that maybe that experience informed his writing.
There's no word yet as to whether Warners is going to further develop the script or start shopping it around to potential directors and cast.