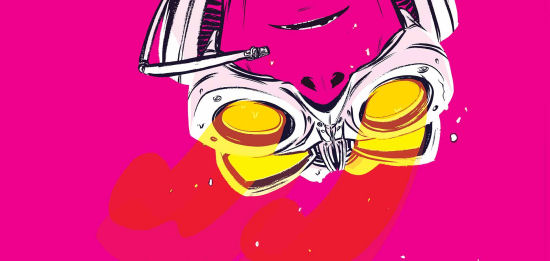 Justin Marks has been hired by Warner Brothers to script a big screen adaptation of the Vertigo Comics series Federal Bureau Of Physics. Marks will be working from a treatment written by Simon Oliver, the writer who created the comic book series for the DC Comics imprint. No director is attached to the project yet, but David Goyer is producing the project.
The series debuted last year and is set in a world very similar to our own but where the laws of physics are starting to sporadically break down. The heroes are members of the underfunded government agency tasked with studying and combating these incidents while dealing with evolving conspiracies and the threat of their department being shut down and the work they do farmed out to a private organization.
This is not the first time that Marks and Goyer have teamed to work on a comics project. A few years back Marks wrote a screenplay, Supermax, that would have brought the DC Comics hero Green Arrow to the big screen in a story that saw the Emerald Archer accused of murder and thrown into a high security prison with many of the villains he had sent there through his career.
On his own, Marks has recently completed work on a live action version of Rudyard Kipling's The Jungle Book for Disney and director Jon Favreau which the studio has scheduled for an October 9, 2015 release. He also just completed an untitled military action thriller for Jerry Bruckheimer and Disney and another classic literary adaptation, 20,000 Leagues Under The Sea: Captain Nemo, also for Disney. He has also turned in a screenplay for an adaptation of the DC Comics series Suicide Squad to Warner Brothers and producer Dan Lin.
Outside of his role as producer, Goyer has worked on the screenplays for Christopher Nolan's Batman trilogy as well as Zack Snyder's Superman film Man Of Steel, it's upcoming sequel which will see Superman square off against Batman and Warners planned Justice League film.
Although not yet a year old, I find myself really liking Federal Bureau Of Physics. It started off life as Collider, but a complaint from a small indie publisher who had released a book with that title years previously lead vertigo to change the name of the series. The book's combination of esoteric quantum theories and working stiffs in the mode of Ghostbusters played straight with a dash of mystery and political intrigue makes for some entertaining reading and artist's Robbi Rodriguez's depictions of the breakdown of the laws of physics should make for some interesting big screen visuals, if they can find the right director.
Via Deadline.