In a multi-part series, Comic Book Film Editor William Gatevackes will be tracing the history of comic book movies from the earliest days of the film serials to today's big blockbusters and beyond. Along with the history lesson, Bill will be covering some of the most prominent comic book films over the years and why they were so special. This time, we cover Marvel's most popular vigilante, THE PUNISHER, and the unsuccessful attempts to build a film franchise around him. 
How is this for a film-ready concept? A man takes his wife and two children on pleasant picnic in the park. Unfortunately, it happens to be in a part of the part where a mob hit was being held. Being discovered, the mobsters kill the man's family in front of his eyes, and leave him for dead. Only, he didn't die. He survived and began using his military training to hunt down organize crime. He becomes a vigilante to make the streets safe.
Sounds good, right? It's pretty close to the back story of Paul Kelsey, Charles Bronson's character in the Death Wish films, a fairly successful franchise in and of itself. So a film based around the above character should be golden, right? Wrong.
Well, this is the backstory of the Punisher, a Marvel character who holds the distinction of being a three time loser when it comes to starting a film franchise in his name. The question is why?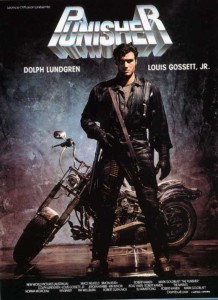 The first attempt at bringing him to the big screen was in 1989 in the form of Dolph Lundgren in The Punisher. I already covered this film in the series here, so I won't go over that familiar ground again. I will say that I find it hard consider that film a serious attempt to bring the character to the screen, especially considering that financial difficulties prevented the film from getting a U.S. release.
Budgetary concerns were also an issue 15 years later when the character actually did appear in the film that was released in the States. Jonathan Hensleigh asked for a budget of $64 million for his version of The Punisher. He got less than half that from Artisan Entertainment with $31 million. This meant the shooting would take place in Florida, not New York. It meant that the script had to be rewritten time and time again to keep it under budget. And, since most of that budget went to the cast, effects and scenes had to be done on the cheap.
Although, considering what we got for that money, we don't know if adding more cash would have made the film any better.
The Punisher was a case of Hensleigh, who not only co-wrote the script with Michael France, but also made his directorial debut with the film, not understanding what his audience wanted. He thought if he threw in characters from the comics such as Joan, Mr. Bumpo, Spacker Dave and the Russian, he'd be free to disregard anything else that made the comic book character great. He also thought as long as he threw mindless action at audiences, they'd willfully ignore some of the idiotic shortcut he made in the narrative.
You don't have to wait long for the first misstep. Frank Castle, a.k.a The Punisher, played by Thomas Jane, is now an F.B.I. agent who kills the son of a crooked businessman in a sting operation. The businessman, Howard Saint (Jazz Traveltini), decides to get his revenge by having all of Castle's family killed.
Lucky for him, the Castle family was having a large family reunion not long after. So, not only does Castle lose his wife and children, but also his mom and pop, Aunt Mitsy, his sister and her no-account dork of a husband ,and that strange cousin who smells like Vicks who you only see once every five years. Ante, you have just been upped!
I'm sure Hensleigh thought that by turning the original "eye for an eye" trope into an "eye for an eye for an eye" and upping the number of dead Castles would be just the type of "more" audiences would eat up. He was wrong.
The fact that the death of Castle's comic book family was brought on by a random twist of fate adds pathos to his origin. If he had his picnic in another park or another time of day, his family would still be alive. But forces beyond his control put him and his family there in that very spot. In the film, his own actions put his family at risk. His family's death was less random, it was just his past coming back to haunt him. The former way works better dramatically.
And the massacre at the family reunion was, no pun intended, overkill. It was as if Hensleigh didn't think a father watching his kids die, or a husband watching the woman he loved expire, had enough emotional impact. It did and does. Having every single member of his extended family might have seemed like a sure-fire way to push Castle deeper into the valleys of mourning and depression (while making Saint seem like much more of a menace), but what it really told audiences is that the film will be bigger than the comic, but not necessarily better.
Another example is how the Punisher is portrayed on the screen. For me, the character works best when he is direct. He finds a target, he kills the target, he moves on to the next target. This is not to say there is not a certain amount of planning that goes on, but none that slides over into the Machiavellian. So, The Punisher taking out a bad guy's money laundering operation, that's fine. His breaking up a partnership Saint had with a pair of drug runners, okay, that could work. Manipulating Saint into falsely believing his right-hand man was having an affair with his wife so Saint would kill them both? That's a bit too much.
But my biggest problem with the film had nothing to do with the comic books. About halfway through the film, there's a scene where Castle goes up to a Sheriff holding a press conference and basically says "I'm Frank Castle, and I want to know why you haven't found my family's murderer." This annoyed the heck out of me because it was essentially a phony way of jacking up risk at the expense of the plot and characterization. Yes, it was presented as Castle wanting to let Saint know he was still alive. But why would he want do that? He was an FBI agent who has worked undercover and he had spent some time in the military. He should know that being off the radar would have some advantages. He could strike at Saint's organization methodically without calling attention to himself and putting his mission of vengeance, and the people around him, in danger.
But, no, we get the big reveal at the press conference. I think the real reason why the scene was included was because Hensleigh wanted to have Saint send the Russian and, well, Sam Club's Johnny Cash after him and put the neighbors he met in danger. That's it. He wasn't thinking of the story or characterization of even if it made sense. He had a result he wanted, this was the easiest way to get there, so it happened.
Luckily, the film was saved from being completely awful by Jane's performance and that of his supporting cast. Unfortunately, it opened opposite Kill Bill Vol 2, and, really, if you were looking for an action film to go see, wouldn't you rather see that one instead? Many fans thought that, as The Punisher opened in second place with half the weekend grosses of  Kill Bill Vol 2. It would go on to just barely earn it's budget back domestically, and only $54 million worldwide.
Those numbers might not seem like the kind that would warrant a sequel, but a sequel was in the works before The Punisher even hit theaters. The plan was for Jane and director Hensleigh to return, with The Punisher facing off against Jigsaw in the film. However, script problems stalled development, causing Hensleigh to leave. Scripts were worked on over the next four years by Stuart Beattie and a pre-Sons of Anarchy Kurt Sutter. Sutter's script was reportedly final straw for Jane, who backed out of the film due to his dislike of it.
Sutter's script was rewritten Nick Santora, Art Marcum and Matt Hollway (so much so that he took his name off the film as only one scene of his remained) and Leni Alexander was hired as director. And in 2008, Punisher: War Zone was released to an unsuspecting world.
I believe that this film was probably as close to the comic book version of the character as we're going to get. You had the feeling that Hensleigh was trying to turn what would work best as a cheesy action film into a Greek tragedy. Alexander went the opposite direction and traveled down the Grindhouse road, earning the R-rating fans were clamoring for. From the opening, where Frank silently dispatches a mob family–one with a chair leg to the eye–to the gory origin of Jigsaw to the finale, where Castle must shoot his way through a three story hotel full of bad guys, the film had enough over-the-top blood and violence to satisfy fans of the character and the genre.
Ray Stevenson takes over for Jane in the lead role, and, being five years older, adds a sense of world-weariness to the role. The film is less a sequel than a soft reboot (the origin is referred to once, and the body count is only Castle's wife and children), but it falls more in line with the comics' Punisher as a driven force of vengeance.
I'm not saying that Punisher: War Zone should knock Citizen Kane off the top of any top ten lists, or even that it is a great film. But if you are a fan of the Punisher and hyper-violent shoot 'em ups, then this film is the better Punisher film of the two.
Unfortunately, not enough people saw the film to make up their own opinions. The film debuted at #8 the weekend it was released, and only made $8 million worldwide, way below its $35 million budget. It was a flop in every sense of the word and killed the Punisher's cinematic life dead. Lionsgate let their option on the character elapse, allowing the rights to revert back to Marvel. Marvel appears to be in no hurry to bring Frank Castle back in live-action, as the character has yet to appear in the studios far range plans for its characters, either in film or on TV.
The character does have its fans, one of which is Thomas Jane. During the 2012 San Diego Comic Con, he released a short film sequel to his version of the Punisher titled Dirty Laundry.
Next time, we take on another much maligned marvel movie franchise, Fantastic Four.