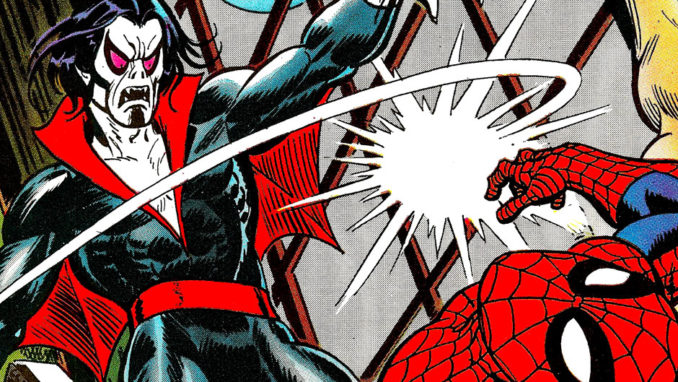 Spider-Man had better stock up on garlic and wooden stakes, because he could be meeting up with a vampire!
Sony has announced the next title that they are planning on adding to their Spider-Man cinematic universe – Morbius, the Living Vampire.
The Hollywood Reporter is stating that the studio has just received a script for the project from Power Rangers writers Burk Sharpless and Matt Sazama., after what the trade describes as "a secret development process."
Morbius first appeared in Marvel Comics' Amazing Spider-Man #101, the issue in which writer Roy Thomas took over the book from Spidey co-creator Stan Lee. The character was one of a number of ill-fated scientists in the Spider-Man mythos who experimented on themselves with tragic results. In this case, Dr. Michael Morbius was attempting to cure a rare blood disease from which he suffered but instead wound up giving himself a form of vampirism. Although initially a foe of Spider-Man, Morbius's character eventually evolved into something of an anti-hero.
Sony has been hard at work developing a number of potential films based of the various characters they have access to through the Spider-Man film rights. Previously it has been reported that the studio is working hard to get Silver And Black – which would feature a team-up between femme fatale anti-heroes Silver Sable and Black Cat – in front of cameras. There is no word if Spider-Man himself, as currently being played by Tom Holland, will make an appearance in the film or how it will connect with the other Spider-Man films Sony is developing.
Sharpless and Sazama have some previous experience with vampires, having scripted 2014's Dracula Untold. In addition to Power Rangers, they also have The Last Witch Hunter and Gods Of Egypt on their resume. None of these pictures inspire much confidence, but hopefully, Sony's ongoing collaboration with Marvel Studios will help creatively steer this one in the right direction.