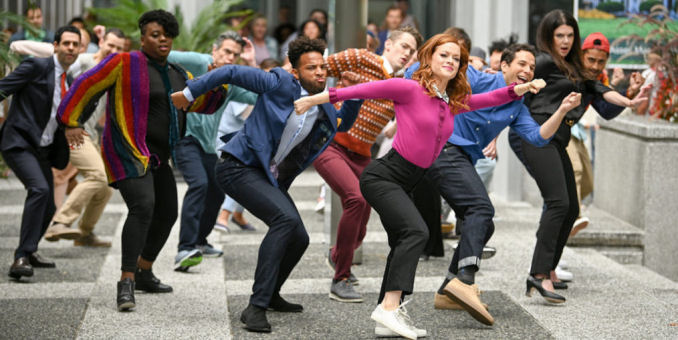 If Zoey Clarke could see me know, she would probably see me singing and dancing a happy song as NBC has renewed its freshman musical comedy series Zoey's Extraordinary Playlist for a second season.
The series has proven to be a breakout hit for the network with episodes averaging a seven-day viewing figure of 3.1 million viewers between those watching its live airing and those catching up with it via a variety of digital platforms or via DVR within that first week.
But don't think that NBC is high on all of the musicals that they had on their schedule this past season. The Bradley Whitford – Anna Camp starring Perfect Harmony did not get a callback for a second season. In fact, Zoey's Extraordinary Playlist is the only one of the network's freshman series to get a second season pick up.
Due to vagaries because of coronavirus and set safety concerns, NBC has not announced their fall schedule yet or when the second season of Zoey's Extraordinary Playlist will bow.
In a rather unique spin on the conceit of musicals, Jane Levy stars as the titular Zoey, a young software programmer who, after a an accident involving an ipod, an MRI and an earthquake, discovers that she can see people's inner thoughts and feelings being expressed by them as song and dance numbers. She soon finds herself using this new insight into her friends and co-workers to try and help them with their individual personal problems while also dealing with her own family's struggles dealing with a father suffering from a terminal neurological disorder.
Skylar Astin, Alex Newell, Peter Gallagher, Mary Steenburgen and Lauren Graham co-star.
Now I'll admit that the show's premise sounded a bit twee and I didn't have any expectations for the series. But when I saw that NBC placed it on Hulu a few weeks before its over=the-air premier, I was intrigued enough by that vote of confidence to check it out. And I was blown away by the show and in particular the star quality of Levy in the role, keeping her character charming while also giving her a relatable emotional vulnerability. And the musical numbers are impressively staged between the choreography from Mandy Moore to the way they are often presented in one continuous, unbroken shot with the camera gliding through the performers and actors.
The entire first season is currently available on Hulu and NBCUniversal-owned streamer Peacock.