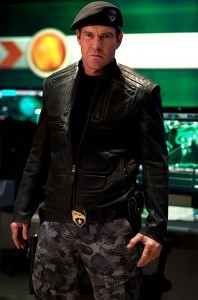 With just under 8 weeks to go before its release, it is looking as if the big screen adaptation of toy and cartoon franchise G. I. Joe is undergoing some last minute, panicked tinkering, starting with the firing of director Stephen Sommers.
Working from a tip from the message boards on producer Don Murphy's website (which now appears to have been deleted), Latino Review has managed to confirm that Sommers was locked out of the editing room of the film by Paramount Pictures execs after the film earned the lowest test audience scores in the studio's history. Hoping to fix the film, the studio has allegedly brought in editor Stuart Baird. After being banished over to the Warners lot to appear as if he was working on the pre-production of his upcoming Tarzan film, Sommers went back to Paramount, though it appears that he still isn't actively involved with the film's final edits.
Latino Review updated their story with a short interview with Joe producer Lorenzo Di Bonaventure who denied and down-played all the claims. Understandable, as Di Bonaventure has a movie to sell to the public.
But all of this really comes as no surprise to me. As it was rushed to avoid the writer's strike, the film's script had some severe problems, detailed in our script review here. Filming was rushed, too, in order to avoid a possible actor's strike. The publicity material that has already been released – character pictures, film clips and trailers – have been met with little enthusiasm, and often times downright scorn online. Is there a buzz building for this film? Perhaps, but it is not too loud.
Now I know that one an episode of MythBusters, they proved that you can indeed polish a turd. However, in this case, I think the MythBusters fallback position is needed- Blow everything up and start over fresh.