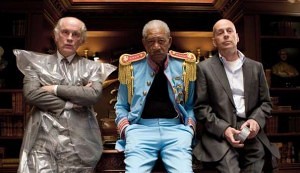 Last fall's action comedy Red didn't set the critical world on fire (a respectable 70% on Rotten Tomatoes) but it seems to have done well enough at the box office to encourage Summit Entertainment to take the first step in developing a sequel. Collider is reporting that the studio has hired the film's screenwriters Jon and Erich Hoeber to begin developing a follow up script.
Outside of the Twilight franchise, Red has been Summit's biggest hit so it is perhaps not that surprising that the upstart studio is looking at capitalizing on it. The film has pulled in almost $165 million at the box office worldwide. Not bad for a project that cost $58 million.
Although based on a comic book miniseries by Warren Ellis and Cully Hammmer, the Hoeber's script for the first film deviated wildly from its source material in terms of its story of retired black-ops agents who find themselves targeted for elimination by their former employer due to the sparsity of the original comic's story. Given that the Hoebers have managed to craft a screenplay based on the board game "Battleship" that was able to get a studio greenlight, I have little reservation that they'll have too much trouble finding a way to expand the world they've created in Red for a second go-round.