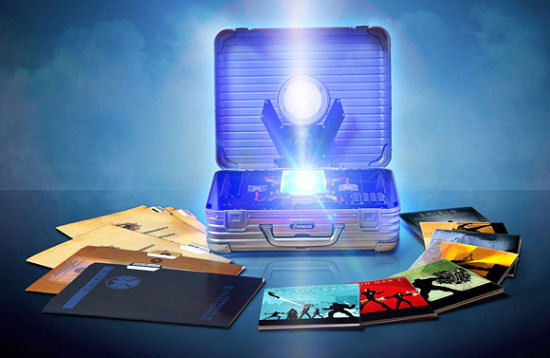 Not unexpectedly, Marvel Studios has definitely delayed the release of their mega "Phase One" DVD/Blu-ray box set consisting of all of the studio's superhero films from 2008's Iron Man to this past summer's The Avengers. Entertainment Weekly is reporting that the set has been postponed from a scheduled release later this month to an unspecified date next spring.
The delay is due to the copyright infringement lawsuit filed against the studio by German luggage manufacturer Rimowa GmbH over the set's briefcase being modeled on the company's own design. Marvel had received permission to use the company's case in Thor and The Avengers, but Rimowa claims that that permission did not extend to the any auxiliary use including the packaging in question.
According to the Rimowa GmbH filing –
Marvel did not obtain any license or authorization from Rimowa to make replica copies of the cases for any purpose… Images of the replica briefcase on Marvel's advertising materials, and fan video from Marvel's product display at this year's Comic-Con convention, show the plastic 'replica case' to be a close copy of Rimowa's Topas attaché case in every respect but quality — from the proportions and coloring, to the style of the handle and latches, and, of course, in the use of the trademarked parallel ridges around the body of the case.
We first reported on the lawsuit last month and followed up when Amazon and Marvel quietly removed the ability to preorder the set from their websites. As we noted then, we figure that this will end with either Marvel and Rimowa GmbH reaching an agreement or Marvel designing some new type of packaging. Personally I would prefer it being the former option as the briefcase set looks pretty amazing. I would also think that Marvel may have already been in production on at least some of the components for the package and that they would rather not have to trash some of that work in favor of a restructured set.
Marvel's parent company Disney has still not made an official statement about the lawsuit or the withdrawal of the box set from pre-order availability.