If you like director Marc Webb's 2012 reboot of Sony's Spider-Man franchise, The Amazing Spider-Man, than you will probably find much to enjoy in the sequel, The Amazing Spider-Man 2. Webb and leads Andrew Garfield and Emma Stone are back, and since the box office seemed to deem their formula a winning one, they are giving us more of the same. However, if you were like me and found the last film a bit of a mixed bag, than I am afraid that I can't report much of an improvement here.
It has been sometime since Peter Parker (Andrew Garfield), aka Spider-Man, saved Manhattan from the machinations of the Lizard, although he is still haunted by the image of his girlfriend's father (Dennis Leary) who made Peter promise to keep his daughter Gwen (Emma Stone), Peter's girlfriend, out of his dangerous superhero life before he died. Peter's guilt over not being able to keep that promise is definitely putting a strain on their relationship. Meanwhile, nebbishy OsCorp electrical engineer Max Dillon (Jamie Foxx) has an accident involving some genetically modified electric eels and soon finds himself with the ability to control electricity and shoot it from his hands. Meanwhile, Peter continues to search into the mystery of his parents' deaths when he was a child and discovers a link back to the technologically cutting-edge OsCorp.
Garfield and Stone have a great chemistry, a continuation from the first film and one which holds together what it can of the film here. Whenever the two are on screen together, even when the script is trying to force their characters apart, there is some real energy and crackle. But when they're apart the film flounders. Even when Webb tries to inject some visual panache with a couple of dutch angles that only windup recalling director Sam Raimi's more visual energetic shooting style from the first Spider-Man trilogy of films.
The film's biggest problem, though, is the inclusion of the classic comic character Harry Osbourne. The son of industrialist Norman Osbourne, the owner of OsCorp, the source of all things evil in the rebooted franchise, Harry and Peter are old friends whose relationship in the comics gets complicated by the fact that Norman is the Green Goblin, one of Spider-Man's greatest foes. Harry later takes up the family tradition of being a supervillain. The film here jettisons much of that, streamlining things a bit. Pete and Harry are still friends, though they haven't seen each other for a decade or so as Norman had shipped his son off to boarding school. The movie skips over Norman's tenure as Green Goblin and lets Harry pick up the mantle of that villain himself. But in that rush to get to a seminal Spider-Man moment that serves as the climax of the film's third act, it shortchanges any actual development between Harry and Peter, which leads to a surfeit of tension and drama between their showdown at the film's climax.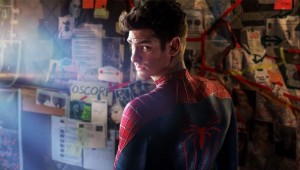 Complicating this is the fact that while he has been more engaging in other films, as Harry, Dane DeHaan is a charisma-less void. Outside of his first interaction with Garfield as the two friends are reunited following the death of Norman, DeHaan's presence here on the screen exhibits nothing that suggests he's acting in the same film as everyone else and that the only direction he was giving was to do an approximate impersonation of Leonardo DiCaprio from ten years ago.
Another problem with the film's ending is that everything stops for a five-to-ten minute segment that serves no purpose for the film at hand as it does to set up the future spin-offs and sequels that Sony has announced that they are planning on making. While other film franchises are also intentionally seeding their current releases with teases for their upcoming planned sequels, they are being done more or less organically, with a success rate dependent on each film series. Here, however, it is done rather clunkily and hamfistedly, calling attention to the fact that, box office willing, we're going to be getting over the next few years.